By Porsha Monique   |  December 6, 2017 1:11 PM EST | Rolling Out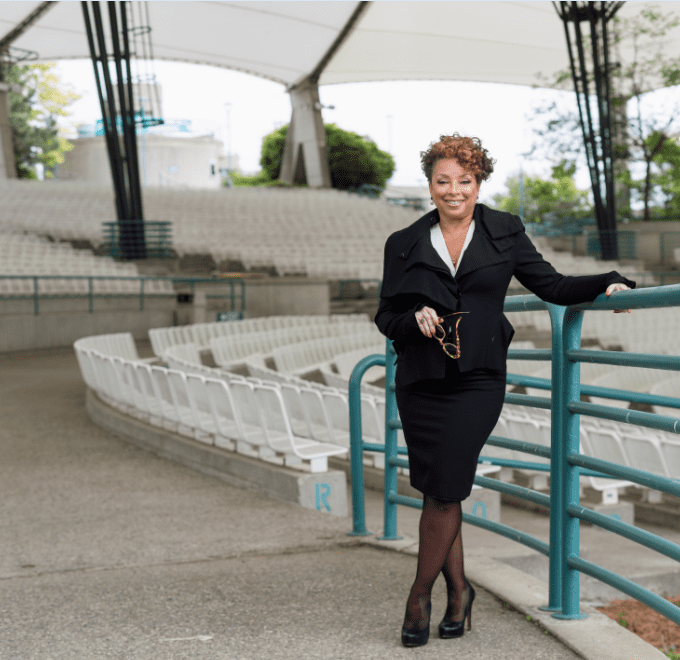 Chances are if you live in Detroit, it's a great probability that you've heard of, or maybe even attended, an event produced by The Right Productions. However, you may not have known that a woman powerhouse is behind the scenes, running the show. Allow us to introduce Shahida Mausi, president of The Right Productions.
Mausi has been running The Right Productions for over 21 years along with sons Sulaiman, Malik and Rashid, and her company has been providing entertainment for major venues in the city of Detroit for almost just as long. This will be their 15th season at Detroit's Chene Park Amphitheater's 6K seat venue, where they provide a series of entertainment options and music concerts including the likes of the legendary Diana Ross, hip-hop royalty including Run-D.M.C., millennial artists such as Jeezy and Tee Grizzley, and just recently the newly reunited R&B group Xscape, where the entire facility was showcased last summer on a national platform, Bravo TV, and where the season finale of "Xscape Still Kickin' It" was recorded.
The Right Productions has been managing and operating all the activities at Chene Park, including booking all the talent, providing for the security, parking, the food, the beverages, the backstage elements, the marketing, and everything that has to do with the amphitheater. They are responsible for the increase in attendance over the years and now annually, the park serves close to approximately 100K each concert season.
Rolling out was able to speak with Mausi about her role with The Right Productions and what she does for Detroit's most breathtaking concert and entertainment venue. She also spoke to us about starting sales early for the 2018 Wednesday Night, Jazzy Nights series, which was released for sale on Black Friday.
During the summer, The Right Productions produces a series of music concerts and other events at Detroit's own Chene Park Amphitheater. How do you continue to produce and sell out great shows?
First, we are blessed with one of the most outstanding venues in the country, if not the world. Chene Park is actually ranked as one of the top amphitheaters in the world. So, when you start with a  great venue, artists love to come here. We make sure that they are treated well, and that they get a chance to perform on this magnificent stage that backdrops to the Detroit River and overlooks boats and Canada, so it's a great venue to see a show. People love to be here in the house. And we [also] listen to our audiences. Tell us who you want to see at Chene Park, and we're going to do our best to get them here.
We love jazz music and think that it's a wonderful way to relax and enjoy a cool summer night's concert on the Detroit River. How did you come up with the idea of pre-selling season ticket passes for your 2018 Jazzy Wednesday Night series on Black Friday?
Well, you know, Chene Park is an institution, and the Wednesday Night Jazzy Nights series has actually been going on for over 31 years so it's a Detroit tradition. So, it just made sense to us that a Detroit tradition should be made available on a traditional family holiday. [Our] Chene Park audience is like family. So, we made the tickets available because people ask us to.
Will the season tickets continue to be offered after Black Friday and Cyber Monday?Absolutely. We have now put the Wednesday Night, Jazzy Night series on sale. So, that means it's available through that first show [in 2018]. Although to get the better seats, you need to get an early start.
Can you share with us some of the artists you have lined up for the 2018 Wednesday Night, Jazzy Night series?
The confirmed talent to date is Will Downing, David Sanborn, Branford Marsalis, Marcus Miller, Norman Brown, Bobby Caldwell, Larry Graham and Jean Luc Ponty to name a few.
Tell us about the personal seat license program you have going on. What is it, how does it work and how does one go about purchasing a seat license?
Chene Park Personal Seat Licenses also [went] on sale Black Friday weekend. A great option for music lovers, a PSL allows license holders to select and secure their preferred seats for all 2018 Chene Park shows. With a PSL purchase, selected seat(s) will be held under the name of the license holder, up to three weeks before the show. If the license holder does not purchase the seat(s), those tickets will be released for sale to the general public.
Where can we find out more information regarding Chene Park's 2018 music series?
For more information, please visit us online at https://cheneparkdetroit.com/